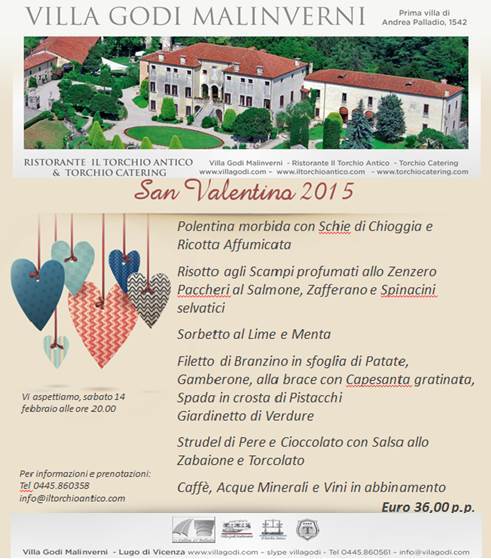 Saturday, February 14 at 20:00

Menu of the evening: b>

Soft polenta with Schie of Chioggia and Smoked Ricotta

Rice with Scampi fragrant ginger
Paccheri - pasta- Saffron Salmon and Baby Spinach wild

Sorbet Lime and Mint

Fillet of Sea bass in pastry Potatoes, Prawn
Grilled Scallop gratin, Sword in pistachio crust
Vegetable

Strudel Pears with Chocolate Sauce and the Eggnog and Torcolato

Euro 36,00 p.p. b>
i>
We are waiting for you !!!

For information and reservations:
Tel 0445.860358
info@iltorchioantico.com
PALLADIOGUIDE
Finally an app for when you are visit Palladio and his first opera, Villa Godi Malinverni, 1542.
You can now find free information about the Vicenza area, from the food and wine to the local craftswork


Visit Guide in PDF






NEW! Visit Guide for tablet AND smartphone







VISITS TO VILLA
From May to September
Tuesday: 15 to 19
Saturday: 9 to 14
Sunday and holidays: 10 - 19
March, April,
October and November
Tuesday: 14 to 18
Saturday: 9 to 14
Sunday and holidays: 14 - 18
After booking you can request a group visit, even in periods other than those specified
INFO AND RESERVATIONS
Phone: +390445860561
Phone: +393393429942
Skype:
villagodi
E-mail: info@villagodi.com